UPDATE 02/23/2023 The Event is FULL
The bus to Austin is FULL but we still want to see you at Rally Day! Please contact Zoher Bharmal if you want to discuss alternative transportation or to meet up in Austin.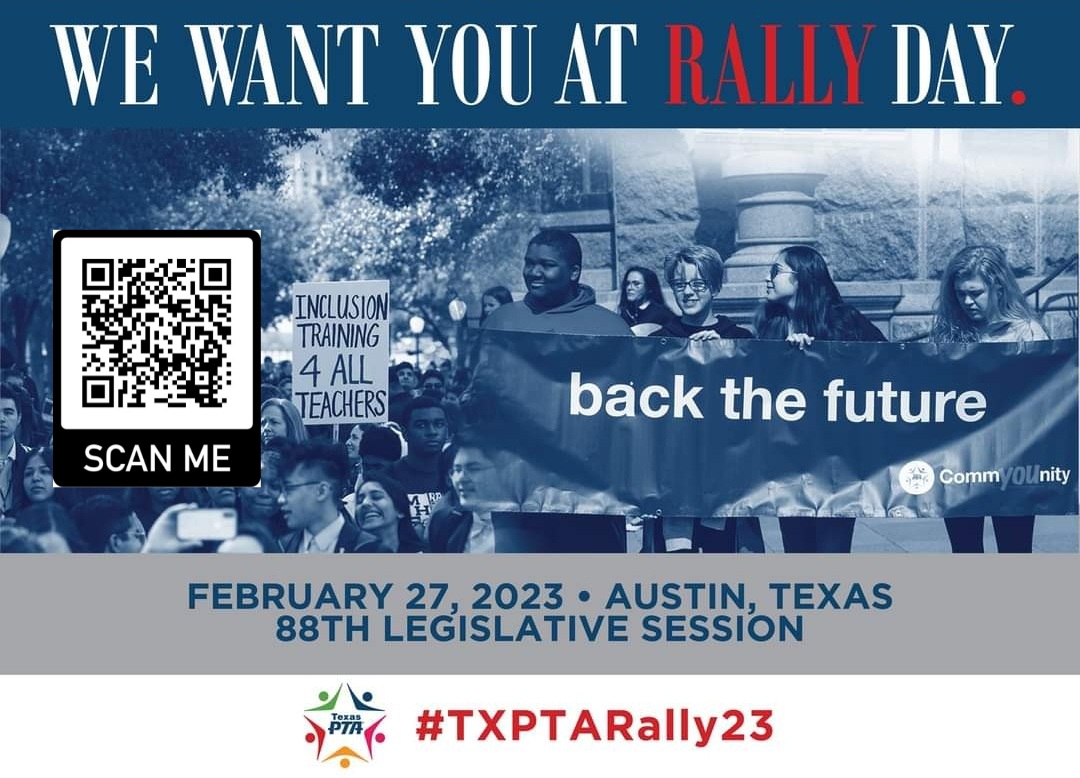 Texas State PTA will be holding a PTA Rally Day in Austin.
RALLY UNDER THE DOME! AUSTIN, TEXAS, FEBRUARY 27, 2023
The Carrollton Farmers Branch ISD Council PTA has organized a Charter Bus to Austin.
The Bus will start at 6:00 am from 1820 Pearl St, Carrollton, TX 75006 on Feb 27th. We are scheduled to return back to Carrollton between 8:30-9:00 pm.
Parents, Teachers, Staff, Educators are welcome to join the Texas PTA Rally Day.
We have meetings confirmed with Representatives Terry Meza Rafael Anchia, Julie Johnson and Senator Tan Parker.
Tentative schedule for Rally Day is as follows:
6:00 AM - Leaves Carrollton, TX
10:00 - 11:00 AM - Arrives in Austin; Priorities & Student Caucuses (if time allows)
11:30 AM - Noon - Rally on the South Steps of the Capital
Noon - 5:00 PM- Lunch & Meetings
1:30 PM - Meeting with TX House of Representative Terry Meza
2:45 PM - Meeting with TX State Senator Tan Parker
3:00 PM - Meeting with TX House of Representative Rafael Anchia
3:30 PM - Meeting with TX House of Representative Julie Johnson
5:00 - 5:30 PM - Leaves Austin, TX
8:30 - 9:00 PM - Arrives in Carrollton, TX
For the details and purpose of the Texas PTA Rally Day, please review this link.
Learn more about TX PTA's legislative priorities here.
Ticket price has been reduced to $10 and it covers the bus ride (both ways), one breakfast sandwich, snacks and water.
To sign up for the CFBISD Council PTA Charter Bus, scan the QR code provided, or click here.